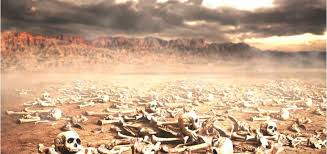 As a preacher for 50 years, I have preached to audiences of all sorts and kinds.  I have preached to some people who seemed uninterested, and some who ent to sleep.  I even had one lady die in a service. (I hope the sermon wasn't that bad!)  But no preacher faced a more impossible task than Ezekiel, who, by way of a vision, was told by to to preach to a valley filled with skeletons!  The skeletons, in fact, had been there for a long time for upon examination he found that they were "very dry" (Ez. 37:2).  When asked if he thought the bones could live again, Ezekiel was non-committal.  The case was hopeless and he knew it (Ez. 37:3).
When told to preach to the bones, Ezekiel started doing so, and the bones started rattling as they were joined together, "bone to bone." Once they were joined, God covered them with sinews, flesh and skin.  There was a slight problem for though joined together and covered with flesh, the bones still had no breath in them.  Ezekiel was told to preach some more.  He did so, God sent the breath of His spirit and the bones "stood upon their feet an exceeding great army"(v.10).
I am aware that different interpretations are often given to Ezekiel 37- prophetic, historical, eschatological- and there may be truth in many or all of them.  But there is also a great spiritual truth, and the truth is this: No person, situation or church is hopeless as long as God is still on his throne. Imagine how hopeless Ezekiel felt, yet God raised those dry bones and gave them life.  The good new is that He is still in the "bone business."  We simply need to do what He asks to receive the life He wants to give.
Thank you, Lord, for the hope that You always offer. Amen.
Credit to  Sonrise Manna – Daily Bread from Sonrise Oven, by Don and Ann Bowen