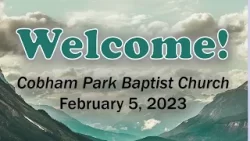 "The Blessing of Modeling Mercy" — February 5, 2023
February 5, 2023
Sunday Worship with Pastor Keith – February 5, 2023
Special Music: Sharon Mann
Preparing Your Heart for Worship:
Has anyone ever shown you mercy? What does "mercy" mean to you?
Scripture: "Blessed are the merciful, for they shall receive mercy." –Matthew 5:7
Message: "The Blessing of Modeling Mercy" (Matthew 5:7)
1. Let the Lord's mercy percolate through your being… (Matthew 5:7; Titus 3:3-6)
2. …And put this mercy into action! (Matthew 5:7; Luke 6:36; 10:37)
Avoid Common Mercy Misunderstandings:
-His mercy isn't conditioned on a person's worthiness.
-His mercy doesn't turn a blind eye to wrong (It's O.K.").
-His mercy doesn't have ulterior motives.
-His mercy does what is best (not always what a person wants).
3. Keep the mercy-faucet on! (Matthew 5:7; 6:12,14-15; 18:33)
"There is a mercy-faucet in your soul. The way to have the faucet on is to be merciful. Allow it to flow through you to others." –Pastor Keith