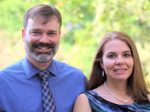 Pastor Keith Williams came to Cobham Park Baptist Church in May 2019. He and his wife Tammy have three sons and one daughter-in-law.
Keith has previously pastored churches in Virginia and Michigan, and has also served as a Youth Minister and Children's Pastor.
Keith received his Master of Divinity degree from The Southern Baptist Theological Seminary, and a Bachelor of Arts from Bluefield College.